Color change due to Pigment
Color change due to Structure
This post is on color change due to pigments.
In a future post, I will research structural colors.
Key Words
Color Change in Biology
Color Change using Technology
Smart Pigments
Thermochromic property
Photochromic property
Piezochromic property
Solvatochromic property
Chimiochromic property
Electrochromism
Smart Textiles
Smart Plastics
Smart Paper
Smart Inks
Smart Food Packaging
Color Science
Material Science
Color Fading
Color Fastness
Color Metamerism
Chromatophores
Iridophores
Leucophores
Chlorophyll
Anthrocyanins
Flavonols
Flavonoids
Color Change and Technology
Chromic phenomena in dyes and pigments
Some of the major companies are
LCR Hallcrest LLC
Hali Pigment Co. Ltd
Chromatic Technologies Inc.
QCR Solutions Corp.
OliKrom
SFXC
MICI
RPM International Inc.
Good Life Innovations Ltd
FX Pigments Pvt. Ltd
Smarol Industry Co. Ltd
Kolortek Co. Ltd
Kolorjet Chemicals Pvt. Ltd
Colourchange
Source: OliKrom
Smart Hybrid Pigments
The solutions developed by OliKrom involve a new generation of hybrid pigments that combines the proven strength of the metal ions and the flexibility of the molecular material. The change in the structure allow to control the color change as a function of :
Temperature (thermochromic property),
Light (photochromic property),
Pressure (piezochromic property),
A solvent (solvatochromic property),
A gas (chimiochromic property),
The expertise of OliKrom allows for each of these properties:
To adjust the request colors,
To obtain reversible and/or irreversible color-shifting,
To modulate the speed of the color change,
To control the issues of fatigability.
To insert these adaptive pigments in a formulation (paint, ink, masterbatch, …) without altering the properties!
To produce on an industrial scale paintings, inks, master batches, …
Applications
SAFETY
Threshold temperature indicators / industrial pipes, thermal mapping.
Display: visual aid in the detection of ice.
Indicator of "health matter", gauge effort, shock detection (Aeronautic & Navy).
Control: Temperature Indicator for monitoring sensitive products: cold chain, transport & medical vaccines or blood products.
Sterilization indicator: labels or inks.
Adhesives: indicator of adhesion, optimum drying.
Food Packaging: temperature indicator for the consumption of a product: beer, wine, vodka, champagne, cans and bottles, hot and cold drinks, baby food.
TRACEABILITY / INFRINGEMENT
Irreversible overheat indicator of industrial processes.
Security inks: offset ink for ticketing, games, secure access badges.
Infringement Indicator: branded article, banknote.
DECORATION / MARKETING / ADVERTISING
Plastic toys: decor with changing color, labels, packaging, paper / plastic promotional, "dynamic" advertising inserts.
Cosmetics: Bottles & Jars of cosmetic or perfume.
Smart Textiles: comfort indicator, clarification of the textile with temperature.
Fluorescent Pigments and Phosphorescent Pigments
Source: PHOTOLUMINESCENTS: FLUORESCENT AND PHOSPHORESCENT INKS AND PAINTS / OliKrom
Photochromic Pigments
Piezochromic Pigments
Thermochromic
Type
Reversible Thermochromic Material
Irreversible Thermochromic Material
Material
Liquid Crystal
Leuco Dyes
Pigment
Other Materials
Application
Roof Coatings
Printing
Food Packaging
Cosmetics
Other Applications
Solvachromes and Chemochromes
Color Change in Biology
Animals
Chameleon
Golden Tortoise Beetle
Mimic Octopus
Pacific Tree Frog
Sea Horses
Flounders
Cuttlefish
Crab Spiders
Squid
Cyanea Octopus
Mechanisms for Color Change
Chromatophores
Leucophores
Iridophores
Source: Adaptive camouflage helps blend into the environment 
Cephalopods such as cuttlefish often use use adaptive camouflage to blend in with their surroundings. They are able to match colors and surface textures of their surrounding environments by adjusting the pigment and iridescence of their skin.
On the skin surface, chromatophores (tiny sacs filled with red, yellow, or brown pigment) ab­sorb light of various wavelengths. Once vis­ual input is processed, the cephalopod sends a signal to a nerve fiber, which is connected to a muscle. That muscle relaxes and contracts to change the size and shape of the chromato­phore. Each color chromatophore is controlled by a different nerve, and when the attached muscle contracts, it flattens and stretches the pigment sack outward, expanding the color on the skin. When that muscle relaxes, the chro­matophore closes back up, and the color dis­appears. As many as two hundred of these may fill a patch of skin the size of a pencil eraser, like a shimmering pixel display.
The innermost layer of skin, composed of leuc­ophores, reflects ambient light. These broadband light reflectors give the cephalopods a 'base coat' that helps them match their surroundings.
Between the colorful chromatophores and the light-scattering leucophores is a reflective lay­er of skin made up of iridophores. These reflect light to create pink, yellow, green, blue, or silver coloration, while the reflector cells (found only in octopuses) reflect blue or green.
Source: https://www.worldatlas.com/articles/10-animals-that-can-change-colors.html
10 Animals That Can Change Colors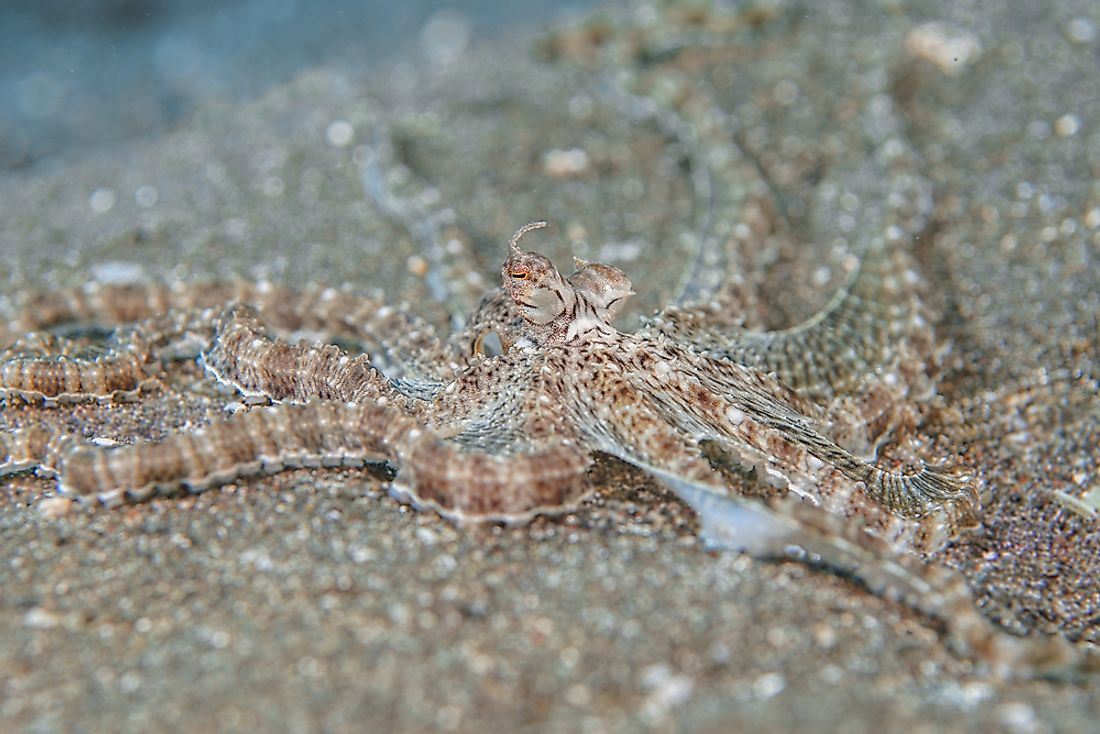 There are a few animals that have the unique ability to change colors. The ability to change colors can help animals protect themselves against their predators because it allows them to blend into their natural environment. Here is a list of 10 color changing animals.
10. Chameleon
A chameleon is a unique species of lizard famous for changing its skin color. It does so to camouflage with its surrounding. Sometimes chameleons change their color when they are angry or fearful. To change its color, the chameleon adjusts a layer of specialized cells underlying its skin. Others change color in response to humidity, light, and temperature. Chameleons never stop growing. They keep shedding their skin from time to time. Furthermore, chameleons have excellent eyesight characterized by a 360-degree arc vision. Although chameleons do not hear, their bodies detect sound within the surrounding.
9. Golden Tortoise Beetle
The golden tortoise beetle is an insect that can change its color. The species with this ability include Charidotella sexpunctata and Charidotella egregia. The tortoise beetles change color due to particular events that occur in their environment. Such events include meeting a willing mate and being touched by a curious human being. Hence, when they are mating or agitated, the tortoise beetles change their color from gold to a bright red color. The change of color occurs due to a process referred to as optical illusion.
8. Mimic Octopus
Mimic octopus, scientifically known as Thaumoctopus mimicus, change their color and they can also mimic other sea creatures such as a lionfish, jellyfish, stingrays, and sea snakes. The mimic octopus can pick the color of the sea creature that they intend to mimic. The mimic octopuses change their body shape to avoid potential predators. The change of skin color helps them to adapt to their surrounding. Mimic octopuses can change color and mimic shapes due to their skin which is very responsive to the environment.
7. Pacific Tree Frog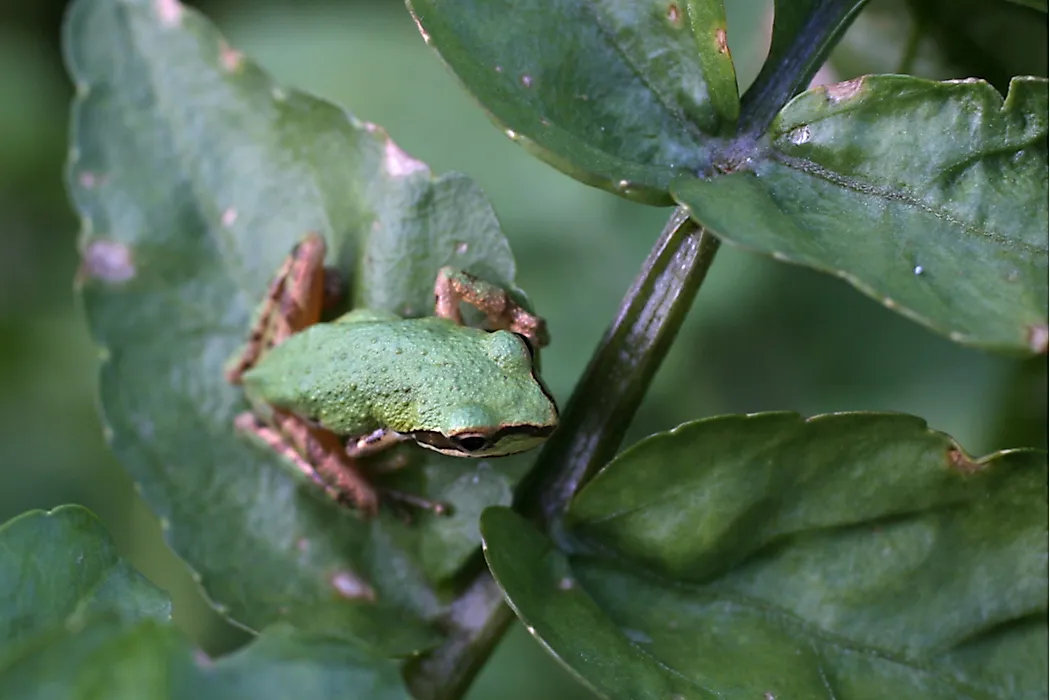 The Pacific Tree Frog inhabits North America. One of its common features is the sticky toe pads. The sticky toe pads enable them to climb trees and plants. The Pacific Tree Frog changes its color to blend in with its surroundings. The change of color is a defense mechanism against predators such as raccoons, bullfrogs, snakes, heron, and many others. Pacific Tree Frogs also change their color based on the seasons and temperature. When the temperatures are high, they turn into a shade of yellow. An example of Pacific Tree Frog species that changes color is Hyla regilla. The process of color change in Pacific Tree Frogs takes 1-2 minutes.
6. Seahorses
Seahorses, such as the thorny seahorse, are among the marine animals that have mastered changing their color. The purpose of changing their skin color is to camouflage, frighten predators, communicate their emotions, and for courtship. Complex interactions between the brain, nervous system, hormones, and organelles make it possible for the seahorses to change their color. The organelles responsible for these color changes are known as chromatophores. Regarding the speed at which the skin color changes, this depends on the stimulus. For instance, in a life or death situation such as involving a predator, the color changes quickly. But whenever the seahorse is courting a mate, the change takes place slowly.
5. Flounders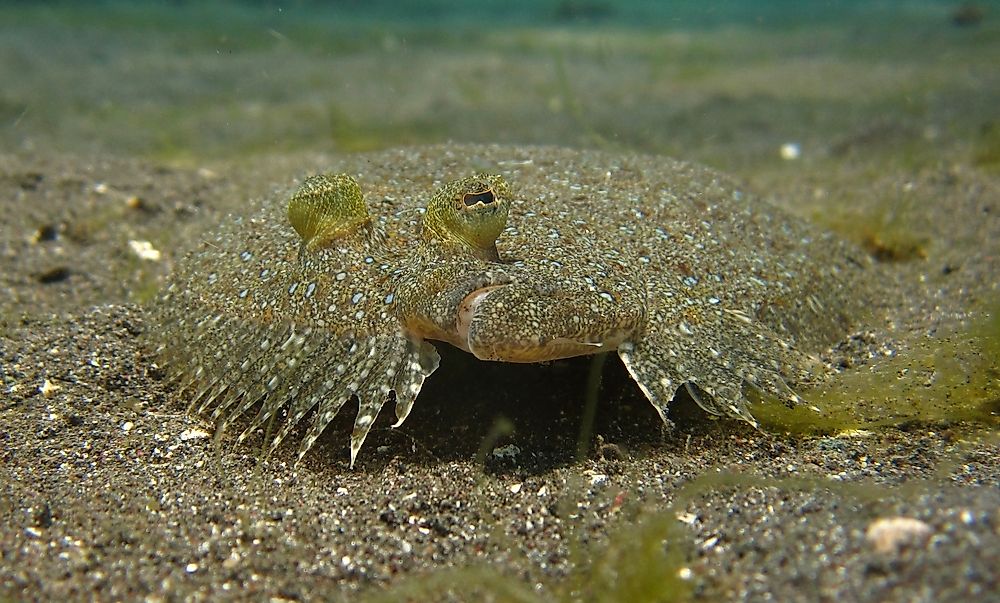 Flounders are naturally brown. However, they can change color to suit their surroundings. A flounder uses its vision and specialized cells inside the skin to change color. The cells, in turn, have color pigments and are linked to the eyes of the flounders. When a flounder moves to a new environment, the retina in the eyes captures the new color. Consequently, the color seen by the eyes are transmitted to the cells. The cells adjust the pigmentation to match the surface color. Scientists have discovered that flounders depend entirely on their vision to change color. When their eyes are damaged, then they have difficulties in camouflaging to their surrounding. An example of flounder species that changes color is the peacock flounder.
4. Cuttlefish
Cuttlefish are cephalopods that change color to feed on prey and avoid predators craftily. They have three mechanisms by which they can change color. Firstly, the cuttlefish skin contains papillae that alter the tone of the fish. The papillae cause the skin to become smooth or rough depending on the environment. Secondly, camouflaging is possible because of the chromatophores in their skin. The chromatophores are sacs of color pigments. To change color, these sacs receive color-changing instructions from the brain and act accordingly. Lastly, cuttlefish have reflecting plates called leucophores and iridophores. The plates enable the fish to change its color.
3. Crab Spiders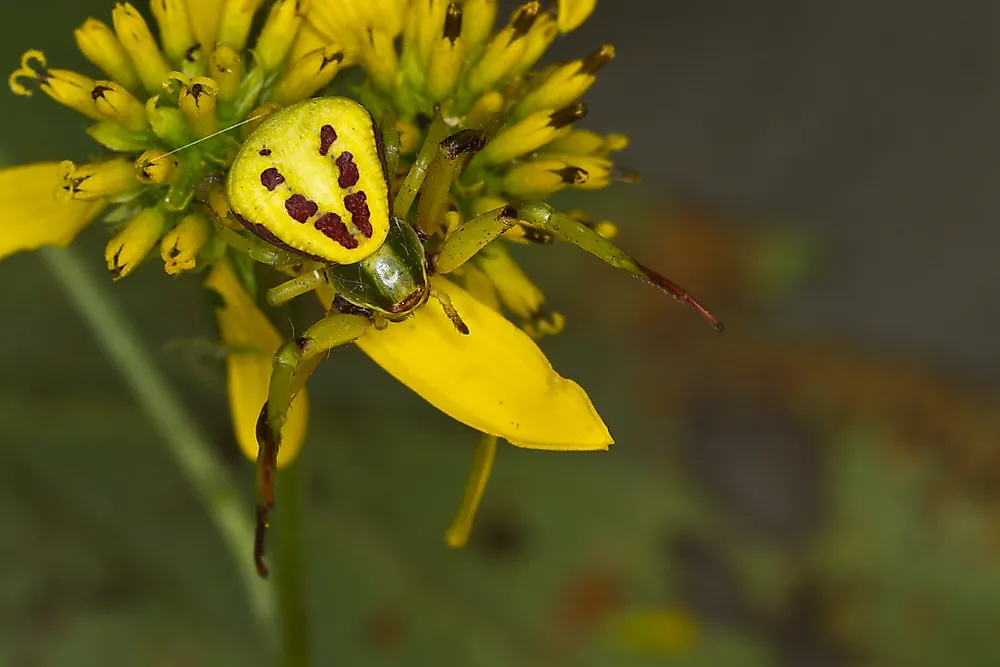 Spiders called flower spiders (or crab spiders) change their color. They usually change color to hide from their prey. Consequently, the spiders change color to resemble the flower surface on which they sit through the reflection of light. Some spiders release a yellow pigment that enhances their color changing process. An example of a species of spider with such color changing features is Misumenoides formosipes and Misumena vatia. The color change from white to yellow takes 10-25 days. Hence, the flower spiders patiently wait for the completion of the process before they can attack their prey.
2. Squid
Squids are marine cephalopods. They possess two long tentacles and eight arms. An interesting fact about the squids is that their blood is blue. Furthermore, they have three hearts instead of one like other fish. The squids are uniquely beautiful and able to change color. They change color using chromatophores engraved in their skin. The purpose of changing color is to match the surface they are on so that they can avoid predators. The camouflage also acts as a hunting tactic since it enables them to hide away from their prey.
1. Cyanea Octopus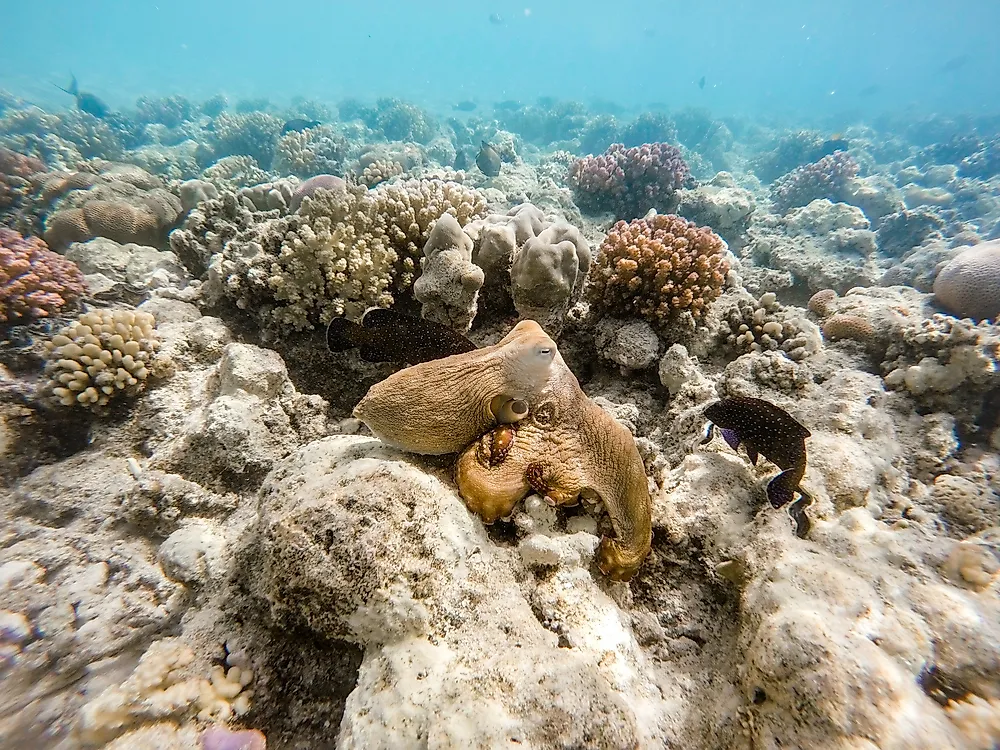 Known as the big blue octopus or the day octopus, octopus cyabea is found in the waters of the Indo-Pacific. It is known as the day octopus as it is most active during the daytime in contrast to most other octopus species. The cyanea octopus is especially adept at camouflage, able to not only frequently change the color of their skin, but also recreate patterns and textures. On the hunt for crabs, molluscs, shrimp, and fish, the cyanea octopus is able to quickly adapt its appearance to its surroundings, even mimicking moving shadows such as overhead clouds.
Color Change in Plants And Flowers
Color change in Leaves and Flowers
Chlorophyll – Green
Cartenoids – Xanthophylls – Yellow as in Corn
Cartenoids – Carotenes – Orange as in Carrots
Anthrocyanins – Blueberries and Cherries – Blue, purple, red, pink
Flavonols – Pale yellows and whites
Plants change colors
Change in Heat
Change in pH
During the Fall
During the day
Color Fading and Color Metamerism are also important problems but are not discussed in this post.
Source: The science behind why leaves change color in autumn
A rainbow of autumn colors
The green color of chlorophyll is so strong that it masks any other pigment. The absence of green in the fall lets the other colors come through. Leaves also contain the pigments called carotenoids; xanthophylls are yellow (such as in corn) and carotenes are orange (like in carrots). Anthocyanins (also found in blueberries, cherries) are pigments that are only produced in the fall when it is bright and cold. Because the trees cut off most contact with their leaves at this point, the trapped sugar in the leaves' veins promotes the formation of anthocyanins, which are used for plant defense and create reddish colors.
However, trees in the fall aren't just yellow and red: they are brown, golden bronze, golden yellow, purple-red, light tan, crimson, and orange-red. Different trees have different proportions of these pigments; the amount of chlorophyll left and the proportions of other pigments determine a leaf's color. A combination of anthocyanin and chlorophyll makes a brown color, while anthocyanins plus carotenoids create orange leaves.
Source: The science behind why leaves change color in autumn
Source:https://www.gardeningknowhow.com/ornamental/flowers/hibiscus/hibiscus-turning-different-color.htm
Can Hibiscus Change Color: Reasons For Hibiscus Turning A Different Color
07/20/20
Can hibiscus change color? The Confederate Rose (Hibiscus mutabilis) is famous for its dramatic color changes, with flowers that can go from white to pink to deep red within one day. But almost all hibiscus varieties produce flowers that can change colors under certain circumstances. Read on to learn more.
Reasons for Color Changing in Hibiscus
If you've ever noticed the flowers on your hibiscus turning a different color, you've probably wondered what was behind the change. To understand why this happens, we need to look at what creates flower colors in the first place.
Three groups of pigments create the vibrant color displays of hibiscus flowers. Anthocyanins produce blue, purple, red, and pink colors, depending on the individual pigment molecule and the pH it is exposed to. Flavonols are responsible for pale yellow or white colors. Carotenoids create colors on the "warm" side of the spectrum – yellows, oranges, and reds.
Each hibiscus variety has its own genetics that determine what pigments, and what range of colors it can produce. However, within that range, temperature, sunlight, pH, and nutrition can all affect the levels of different pigments in a flower and what color they appear.
The blue- and red-colored anthocyanins are water-soluble pigments carried in plant sap. Meanwhile, the red, orange and yellow carotenoids are fat-soluble pigments created and stored in the plastids (compartments in plant cells similar to the chloroplasts that carry out photosynthesis). Therefore, anthocyanins are less protected and more sensitive to environmental changes, while carotenoids are more stable. This difference helps explain the color changes in hibiscus.
Anthocyanins exposed to hot conditions will often break down, causing flower colors to fade, while carotenoid-based colors hold up well in the heat. High temperatures and bright sunlight also enhance carotenoid production, leading to bright reds and oranges.
On the other hand, plants produce more anthocyanins in cold weather, and the anthocyanins they produce tend to be more red- and pink-colored as opposed to blue or purple. For this reason, some anthocyanin dependent hibiscus flowers will produce brilliant color displays during cool weather or in partial shade, but will fade in bright, hot sunlight.
Similarly, flavonols exposed to high temperatures will fade from yellow to white, while cold weather will cause an increase in production and a deepening of yellow flower colors.
Other Factors in Hibiscus Color Change
Some anthocyanin pigments will change color depending on the pH they're exposed to within the flower. The pH doesn't usually change over time within a hibiscus flower because it is determined genetically, but patches of different pH levels can lead to multiple colors occurring within one flower.
Nutrition is also a factor in color changes. Adequate sugar and protein in the sap are required for anthocyanin production. Making sure your plant has enough fertility and nutrients is important for vibrant colors in anthocyanin dependent flowers.
So, depending on its variety, your hibiscus changed color because of some combination of temperature, sunlight, nutrition, or pH has taken place. Can gardeners control this hibiscus color change? Yes, indirectly – by controlling the plant's environment: shade or sun, good fertility, and protection from hot or cold weather.
Source: https://www.loc.gov/everyday-mysteries/botany/item/what-causes-flowers-to-have-different-colors/
What causes flowers to have different colors?
Answer
Anthocyanins and carotenoids… plus some other things.
Flowers come in all shapes and sizes, but what makes them truly stand apart from each other is their vibrant colors. These colors are made up of pigments and, generally speaking, the fewer the pigments, the lighter the color. The most common pigments in flowers come in the form of anthocyanins. These pigments range in color from white to red to blue to yellow to purple and even black and brown. A different kind of pigment class is made up of the carotenoids. Carotenoids are responsible for some yellows, oranges, and reds. (These little guys are what cause the brilliant colors of autumn leaves!) While many flowers get their colors from either anthocyanins or carotenoids, there are some that can get their colors from a combination of both.
Anthocyanins and carotenoids are the main sources of flower coloration, but there are other factors that can affect how colors present themselves.  The amount of light flowers receive while they grow, the temperature of the environment around them, even the pH level of the soil in which they grow can affect their coloration.  Another factor is stress from the environment.  This stress can include a drought or a flood or even a lack of nutrition in the soil, all of which can dampen the coloration of flowers.  And then, of course, there is the visual that the eye and brain form together: humans can, for the most part, view all colors in the visible spectrum, BUT every human perceives color differently, so a red rose may appear more vibrant to one person while it appears more muted to another.  Beauty (and color!) is in the eye of the beholder.
My Related Posts
Color and Imaging in Digital Video and Cinema
On Light, Vision, Appearance, Color and Imaging
On Luminescence: Fluorescence, Phosphorescence, and Bioluminescence
Key Sources of ResearCH
Photochromic and Thermochromic Colorants in Textile Applications
M. A. Chowdhury, M. Joshi and B. S. Butola
https://journals.sagepub.com/doi/pdf/10.1177/155892501400900113
THE CHEMISTRY & PHYSICS OF
SPECIAL EFFECT PIGMENTS & COLORANTS
A. NURHAN BECIDYAN
President
UNITED MINERAL & CHEMICAL CORPORATION
PHOTOLUMINESCENTS: FLUORESCENT AND PHOSPHORESCENT INKS AND PAINTS
Structural colour and iridescence in plants: the poorly studied relations of pigment colour
Beverley J. Glover1,* and Heather M. Whitney2
https://www.ncbi.nlm.nih.gov/pmc/articles/PMC2850791/
Analysing photonic structures in plants
Silvia Vignolini1,2, Edwige Moyroud3, Beverley J. Glover3 and Ullrich Steiner1
1Cavendish Laboratory, University of Cambridge, JJ Thomson Avenue, Cambridge CB3 0HE, UK 2Department of Physics and Astronomy, University College London, Gower Street, London WC1E 6BT, UK 3Department of Plant Sciences, University of Cambridge, Downing Street, Cambridge CB2 3EA, UK
The Mechanism of Color Change in the Neon Tetra Fish: a Light‐Induced Tunable Photonic Crystal Array†
Dvir Gur 1 , Benjamin A Palmer 1 , Ben Leshem 2 , Dan Oron 2 , Peter Fratzl 3 , Steve Weiner 1 , Lia Addadi 4
First published: 27 April 2015
https://pubmed.ncbi.nlm.nih.gov/25914222/
10 Animals that can Change Colors
https://www.worldatlas.com/articles/10-animals-that-can-change-colors.html
How Octopuses and Squids Change Color
https://ocean.si.edu/ocean-life/invertebrates/how-octopuses-and-squids-change-color
Why color-changing animals alter their appearance
By Zach Fitzner
Earth.com staff writer
Iridophores and their interactions with other chromatophores are required for stripe formation in zebrafish
Hans Georg Frohnhöfer, Jana Krauss, Hans-Martin Maischein, Christiane Nüsslein-Volhard
Development 2013 140: 2997-3007; doi: 10.1242/dev.096719
https://dev.biologists.org/content/140/14/2997.article-info
Magic Traits in Magic Fish: Understanding Color Pattern Evolution Using Reef Fish
Author links open overlay panelPaulineSalis1ThibaultLorin2VincentLaudet1BrunoFrédérich3
https://www.sciencedirect.com/science/article/abs/pii/S0168952519300162
https://www.x-mol.com/paper/959131
Rapid integumental color changes due to novel iridophores in the chameleon sand tilefish Hoplolatilus chlupatyi
First published: 13 February 2017 https://doi.org/10.1111/pcmr.12581
https://onlinelibrary.wiley.com/doi/abs/10.1111/pcmr.12581
Flashing Tilefish's Color Changing Skin is Unique in the Animal World
Top 10 Colour Changing Animals Around the World
Chameleon-Inspired Variable Coloration Enabled by a Highly Flexible Photonic Cellulose Film
Ze-Lian Zhang,
Xiu Dong,
Yi-Ning Fan,
Lu-Ming Yang,
Lu He,
Fei Song*,
Xiu-Li Wang, and
Yu-Zhong Wang*
Cite this: ACS Appl. Mater. Interfaces 2020, 12, 41, 46710–46718Publication Date:September 23, 2020
https://pubs.acs.org/doi/10.1021/acsami.0c13551
The secret to chameleon color change: Tiny crystals
By Robert F. ServiceMar. 10, 2015
https://www.sciencemag.org/news/2015/03/secret-chameleon-color-change-tiny-crystals
Amazing Octopus Color Transformation | National Geographic
How do Octopuses Change Color?
Here's everything you ever wanted to know about chromatophores.
Study demonstrates that octopus's skin possesses same cellular mechanism for detecting light as its eyes do
by University of California – Santa Barbara
https://phys.org/news/2015-05-octopus-skin-cellular-mechanism-eyes.html
Progress and Opportunities in Soft Photonics and Biologically Inspired Optics
First published: 23 October 2017
https://onlinelibrary.wiley.com/doi/abs/10.1002/adma.201702669
https://pubmed.ncbi.nlm.nih.gov/29057519/
https://onlinelibrary.wiley.com/doi/am-pdf/10.1002/adma.201702669
Bioinspired living structural color hydrogels
Fanfan Fu, Luoran Shang, Zhuoyue Chen, Yunru Yu, Yuanjin Zhao
Smart pigments with reactive nanocolors printed on paper and flexibles
2009 International Conference on Nanotechnology for the Forest Products Industry
Thermochromic Material
https://www.sciencedirect.com/topics/engineering/thermochromic-material
Color Changing Plastics for Food Packaging
By
Lizanel Feliciano
Ohio State University, Columbus, Ohio
Smart dyes for medical and other textiles
DOI: 10.1533/9781845692933.1.123
Tatjana Rijavec, Sabina Bračko
University of Ljubljana
https://www.researchgate.net/publication/288402591_Smart_dyes_for_medical_and_other_textiles
Thermochromic colors in textiles
S. Periyasamy, Gaurav Khanna
https://www.fibre2fashion.com/industry-article/3059/thermochromic-colors-in-textiles
"Smart" fluorescent dyes change color in different solid states
Aug 21st, 2018
https://www.laserfocusworld.com/lasers-sources/article/16571232/smart-fluorescent-dyes-change-color-in-different-solid-states
Materials that Change Color
Smart Materials, Intelligent Design
Marinella Ferrara
Murat Bengisu
https://link.springer.com/book/10.1007%2F978-3-319-00290-3#about
Switching Colors with Electricity
American Scientist
JANUARY-FEBRUARY 2013
VOLUME 101, NUMBER 1
https://www.americanscientist.org/article/switching-colors-with-electricity
Smart textiles change colour on demand

Friday, 13 May 2016
https://portal.engineersaustralia.org.au/news/smart-textiles-change-colour-demand
Design Concepts for a Temperature-sensitive Environment Using Thermochromic Colour Change
Robert M Christie, Sara Robertson and Sarah Taylor
Colour: Design & Creativity (2007) 1 (1): 5, 1–11
Smart responsive phosphorescent materials for data recording and security protection
Huibin Sun1,2,􏰀, Shujuan Liu1,􏰀, Wenpeng Lin1, Kenneth Yin Zhang1, Wen Lv1, Xiao Huang2, Fengwei Huo2, Huiran Yang1, Gareth Jenkins1,2, Qiang Zhao1 & Wei Huang1,2
Received 21 Oct 2013 | Accepted 10 Mar 2014 | Published 7 April 2014
NATURE COMMUNICATIONS
https://www.nature.com/articles/ncomms4601.pdf?origin=ppub
Anthocyanin food colorant and its application in pH-responsive color change indicator films
Swarup Roy & Jong-Whan Rhim (2020)
Critical Reviews in Food Science and Nutrition,
DOI: 10.1080/10408398.2020.1776211
Smart monitoring of gas/temperature changes within food packaging based on natural colorants
COMPREHENSIVE REVIEWS IN FOOD SCIENCE AND FOOD SAFETY
2020;19:2885–2931.
DOI: 10.1111/1541-4337.12635
https://onlinelibrary.wiley.com/doi/pdfdirect/10.1111/1541-4337.12635
Smart textiles: an overview of recent progress on chromic textiles
Heloisa Ramlow , Karina Luzia Andrade & Ana Paula Serafini Immich
Pages 152-171 | Received 20 Feb 2019, Accepted 24 Oct 2019, Published online: 29 Jun 2020
The Journal of The Textile Institute Volume 112, 2021 – Issue 1
https://www.tandfonline.com/doi/abs/10.1080/00405000.2020.1785071
Anthocyanin – A Natural Dye for Smart Food Packaging Systems
Suman Singh1, Kirtiraj K. Gaikwad2, and Youn Suk Lee3*
https://www.semanticscholar.org/paper/Anthocyanin-–-A-Natural-Dye-for-Smart-Food-Systems-Singh-Forestry/4f41ec48d77d61bc05decd7738a672f414f9b2db?p2df
Critical Review on Smart Chromic Clothing
Esraa El-Khodary1, Bahira Gebaly2, Eman Rafaat2, Ahmed AlSalmawy2
Colorimetric properties of reversible thermochromic printing inks
Rahela Kulcar a, Mojca Friskovec b, Nina Hauptman c, Alenka Vesel d, Marta Klanjsek Gunde
Dyes and Pigments 86 (2010) 271e277
Designing Smart Textiles Prints with Interactive Capability
Prof. Hoda Abdel Rahman Mohamed El-Hadi 1 ,Prof. Sherif Hassan Abdel Salam 2 Eng. Kholoud Hassan Mohamed Mahmoud
Smart Chromic Colorants Draw Wide Attention for the Growth of Future Intelligent Textile Materials
Amit Sengupta#& Jagadananda Behera
Wool Research Association, Thane, India
LEUCO DYE-BASED THERMOCHROMIC INKS: RECIPES AS A GUIDE FOR DESIGNING TEXTILE SURFACES
MARJAN KOOROSHNIA Swedish School of Textiles
Relation between colour- and phase changes of a leuco dye-based thermochromic composite
Scientific Reports volume 8, Article number: 5511 (2018)
https://www.nature.com/articles/s41598-018-23789-2
The Chemistry and Physics of Special-Effect Pigments and Colorants for Inks and Coatings
Paints and Coatings
2003
https://www.pcimag.com/articles/85016-the-chemistry-and-physics-of-special-effect-pigments-and-colorants-for-inks-and-coatings
THERMOCHROMIC MATERIAL MARKET
https://www.mordorintelligence.com/industry-reports/thermochromic-material-market
QCR Solutions Corp
OliKrom
The Effective Use of Interference and Polychromatic Colorants
https://www.pcimag.com/articles/102445-the-effective-use-of-interference-and-polychromatic-colorants
White reflection from cuttlefish skin leucophores
Cephalopod Camouflage: Cells and Organs of the Skin
https://www.nature.com/scitable/topicpage/cephalopod-camouflage-cells-and-organs-of-the-144048968/
Chromatophore Organs, Reflector Cells, Iridocytes and Leucophores in Cephalopods
RICHARD A. CLONEY AND STEVEN L. BROCCO
Mechanisms and behavioural functions of structural coloration in cephalopods
Lydia M. Ma ̈thger1,2,3,*,†, Eric J. Denton3,‡, N. Justin Marshall2 and Roger T. Hanlon1
J. R. Soc. Interface (2009) 6, S149–S163
Cephalopod Camouflage: Cells and Organs of the Skin
https://www.nature.com/scitable/topicpage/cephalopod-camouflage-cells-and-organs-of-the-144048968/
Chromatophore
https://en.wikipedia.org/wiki/Chromatophore
Leucophores are similar to xanthophores in their specification and differentiation processes in medaka
https://www.researchgate.net/publication/262111984_Leucophores_are_similar_to_xanthophores_in_their_specification_and_differentiation_processes_in_medaka
Identification and Characterization of Highly Fluorescent Pigment Cells in Embryos of the Arabian Killifish (Aphanius Dispar)
On leucophores and the chromatic unit of Octopus vulgaris
https://zslpublications.onlinelibrary.wiley.com/doi/pdf/10.1111/j.1469-7998.1978.tb03363.x
Adaptive camouflage helps blend into the environment
https://asknature.org/strategy/adaptive-camouflage-helps-blend-into-the-environment/
Identification of kit-ligand a as the Gene Responsible for the Medaka Pigment Cell Mutant few melanophore
THE SECRET OF A SQUID'S ABILITY TO CHANGE COLORS MAY LIE IN AN UNEXPECTED SPARKLE ON ITS SKIN
INVISIBILITY IS (ALMOST) POSSIBLE WHEN HUMAN CELLS ARE MERGED WITH SQUID GENES
https://www.syfy.com/syfywire/human-cells-merged-with-squid-invisibility-trait
How Cephalopods Change Color
By Dr. James Wood and Kelsie Jackson
ELECTRONIC PAPER DISPLAYS: Kindles and cuttlefish: Biomimetics informs e-paper displays
https://www.laserfocusworld.com/detectors-imaging/article/16549524/electronic-paper-displays-kindles-and-cuttlefish-biomimetics-informs-epaper-displays
Skin paterning in Octopus vulgaris and its importance for camouflage
Iridophores and Not Carotenoids Account for Chromatic Variation of Carotenoid-Based Coloration in Common Lizards ( Lacerta vivipara ).
Biological vs. Electronic Adaptive Coloration: How Can One Inform the Other?
Eric Kreit1, Lydia M. Mäthger2, Roger T. Hanlon2, Patrick B. Dennis3, Rajesh R. Naik3, Eric Forsythe4 and Jason Heikenfeld1*
The Chemistry of Biological Camouflage
https://www.chemistryislife.com/the-chemistry-of-biological-camouflage
Mechanisms and behavioural functions of structural coloration in cephalopods
https://espace.library.uq.edu.au/view/UQ:170626
Sepiida algorithm for solving optimal reactive power problem
Are You Ready for Plants That Change Color?
Why Leaves Change Color
https://www.esf.edu/pubprog/brochure/leaves/leaves.htm
Can Hibiscus Change Color: Reasons For Hibiscus Turning A Different Color
https://www.gardeningknowhow.com/ornamental/flowers/hibiscus/hibiscus-turning-different-color.htm
What causes flowers to have different colors?
https://www.loc.gov/everyday-mysteries/botany/item/what-causes-flowers-to-have-different-colors/
The science behind why leaves change color in autumn
Why has my plant's flower changed colour?
Why Does Cannabis Change Colors?
https://cannabis.net/blog/strains/why-does-cannabis-change-colors
A cyborg plant with color-changing leaves? Scientists just rose to the challenge.
https://www.washingtonpost.com/news/speaking-of-science/wp/2015/11/23/a-cyborg-plant-with-color-changing-leaves-scientists-just-rose-to-the-occasion/
Color-changing plants detect pollutants and explosives
https://newatlas.com/color-changing-plants-detect-pollutants-and-explosives/17915/
The Color Genes of Speciation in Plants

Daniel Ortiz-Barrientos1
Genetics. 2013 May; 194(1): 39–42.
doi: 10.1534/genetics.113.150466
https://www.ncbi.nlm.nih.gov/pmc/articles/PMC3632479/
Guide to Fall Colors in Upstate New York
Donald J. Leopold
Chair, Department of Environmental and Forest Biology and Distinguished Teaching Professor
SUNY-ESF, Syracuse
The plants that change colour through the seasons
https://www.stuff.co.nz/life-style/home-property/nz-gardener/76979012/the-plants-that-change-colour-through-the-seasons
Colours of plants and animals
https://www.itp.uni-hannover.de/fileadmin/arbeitsgruppen/zawischa/static_html/botzooE.html